About me & my work
My name is Gabriella Barouch, I'm an award winning illustrator, Visual explorer, designer toys & art collector.
Represented by MA world group
Since beginning my path as an artist in 2001 I've been fortunate to work with clients such as the French post office, Le Monde newspaper, soft Gallery fashion, Dalton winery, Penguin books, Sabon luxury products and more. I taught two illustration courses at Lehigh university (PA, USA) in 2013, was chosen as artist of the season at Jerusalem season of culture 2012 and was a lecturer at Pecha Kucha at the same year. My debuted picture book "Maybe" written by Kobi Yamada won two gold medals and was translated to over 8 languages around the world. My work was exhibited around the world and has been showcased online at My Modern Met, Creative Bloq, Awwyours,  TheChildrensBookReview, Book Page,  Idn, Illustration Rally, Creative Boom, Picame, The Journal, The Jealous Curator, Art Attacks, Seven Impossible Things Before Breakfast, Frame, Ycn, Ballad Of, Koikoikoi, Illustration Age, Illustrators Lounge, Trend Hunter, Partfaliaz, Lamono, Ladder And Key and more.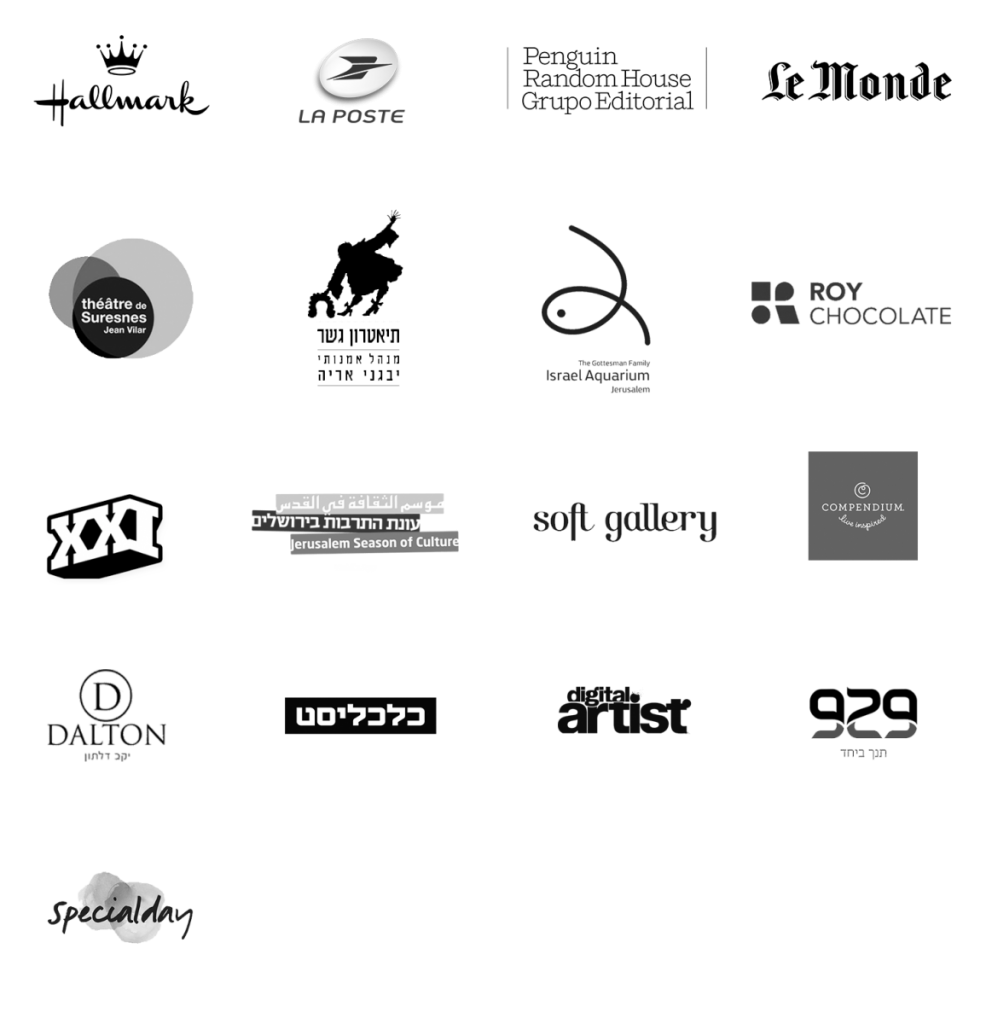 2023
3×3 Pro Show No.20 – Merit
2021
Applied Arts Illustration Award – Unpublished category – Relationship series.
2020
3×3 Pro Show No.17 – Merit
The Original Art 40th Annual Exhibition / Society Of Illustrators NY / For "Maybe" written by Kobi Yamada
2019
NAUTILUS Book Awards – GOLD medal Winner / Picture Books for "Maybe" written by Kobi Yamada
Foreword Book Awards – GOLD medal Winner / Picture Books for "Maybe" written by Kobi Yamada
2017
Illustration West 56  – Unpublished Award / Society of Illustrators LA
Japan illustrators association award –  3rd place / Holbein prize
2016
Illustration West 55  – Gallery Award / Society of Illustrators LA
Cheltenham Illustration Awards – Tales of Nonsense / University of Gloucestershire UK
London International Creative Competition – Shortlist
2014
Communication Arts  – Book award
American Society Of Illustration award – Annual 57
2013
AOI Illustration Awards – Shortlist
YCN professional awards – Award in illustration category
3×3 Pro Show No.10 – Merit
2012
Hiii Illustration international competition – Awarded Grand Prix &  Best of Best / China
9th COW International Design Festival – Top 10 Illustration /Ukraine
Hand Drawn Competition – Print Magazine / Awarded 4 & Honorable Mention
Richard Solomon's breakthrough contest – 3rd place / NY
2011
CMYK magazine / 51 Most creative / Illustration
2017
Kuli Alma gallery Tel Aviv / Solo exhibition
Hakka International Picture Book Exhibition / 13th China International Culture Industry Fair, Shenzhen
Life Science Group Exhibition / Jerusalem Design Week / Natural History Museum /Works by recent years' graduates of various departments in Bezalel Academy Of Art & Design.
2016
Ideas on Paper Group Exhibition / Beijing Design Week  / Hiiibrand's illustration exhibition.
Never Odd Or Even – Paradox and Duality Group Exhibition /  Light Grey Art Gallery  Minneapolis, MN
Rarities Group exhibition / Gristle art gallery, NY
Imaginary Menagerie: Vol. III Group exhibition / Arch Enemy Arts Gallery, Philadelphia
2014
56th American Society of Illustrators annual exhibition / Museum of American Illustration, NY
Illustration week Tel Aviv Group exhibitions / Took part at 4 exhibitions /  Tel Aviv, Israel.
ReCover Group exhibition / 4th International Writers Festival, Jerusalem
2013
25 Israeli illustrators Group exhibition / Venice, Italy
One hundred and four windows Group exhibition / Tehran, Iran
2012
9th COW International Design Festival Group exhibition / Top 10 Illustrations For 2012, Ukraine
Rock En Seine music festival Group exhibition / Paris, France